Health checkup results management system
Insured persons can confirm their own health checkup results with the "Health checkup result management system" on our website.
POINT

Your own test results and grading for each test item, findings, and overall grading.
Record of your health checkup visits (dates, medical institutions visited).
Purpose of each test item, testing method, and interpretation of the test results.
Health checkup results management system
(Japanese version only)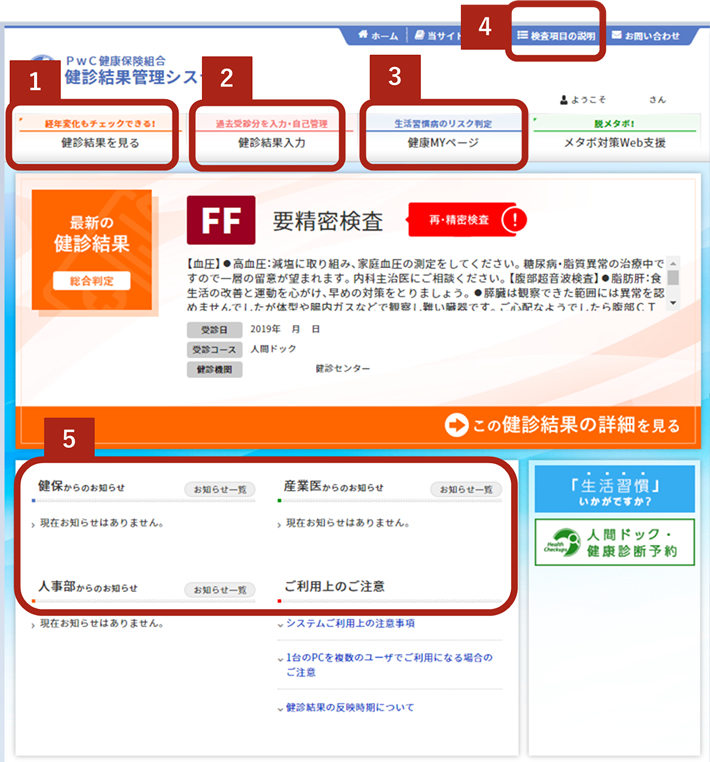 Confirmation of medical examination results:
You can check the health checkup results over the years, from the latest results to past results.
Enter and set up medical examination results:
The user can register the medical examination result and edit/delete it.
Health MY page:
You can refer to the explanation of the method and purpose of the test and the major illnesses that can be found from the results.
Description of inspection items:
You can check the purpose of each inspection and the inspection method.
Notice:
You can view the notice from the Health Insurance Society, Human Resources Department, and industrial physicians.
We will continue to input health checkup results, thus accumulating your health data. Graphic representation of the test results over the years, trends and changes will highlight each person's health issues, including problems and points of concern.
※Although data is continually entered and registered, such procedures can only be completed after we have received the health checkup results from the medical institutions; therefore, insured persons' health data will in principle only be available in the "health checkup result management system" two months after the month of the health checkup.